Try a 30-day trial of Photoshop or any Adobe Creative Suite product. More info.




Free Adobe Photoshop Plugins & Photoshop Plugins Coupons



Want some free Photoshop Plugins? See our amazing collection: The Best Free Photoshop Plugins - Free Photoshop Plugin Downloads. We also have discounts on the following Photoshop Plug-ins.

Topaz Labs Plugins — 15% Discount Coupon
Enter coupon code PHOTOSHOPSUPPORT during the checkout process at Topaz Labs for an instant 15% discount on any Topaz product, including bundles and upgrades.



Photoshop Plugin Topaz ReMask 50% Special - Now Only $34.99
This month Topaz is promoting their image masking software Topaz ReMask, which will be 50% off from July 15 - 31. They're also releasing a substantial free update to ReMask for existing customers. There's lots of masking tools out there, but Topaz has focused on making ReMask the fastest and easiest to use. It's the only masking software that doesn't require an instructions manual. Get ReMask for 50% off. You can also download a free trial.





The price drop will bring ReMask from $70 to $34.99 until the end of the month. Many plugin users say that ReMask is their favorite Photoshop product.

Jeff Wendorff is a full-time wildlife photographer and workshop leader and he prefers ReMask for its speed and simplicity. "It is a royal pain to make a good cut-out in Photoshop and it is very very time consuming. With ReMask, an easy cut-out can be done in a couple of minutes and I've never spent more than 15 minutes on a hard one. I photograph mostly wildlife, so importantly for me, it does a better job extracting fur and feathers from the background."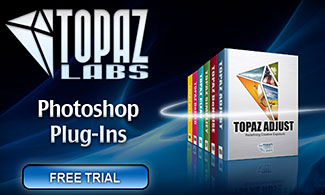 Topaz Labs Photoshop plug-ins are specifically designed to expand a photographer's creative toolbox by harnessing powerful image technology developments.

The bundle lineup offers tools and features for creating pseudo HDR effects, adjusting color, exposure and detail, reducing noise and JPEG artifacts, masking and extraction, increasing smoothing and sharpening, creating artistic masterpieces and enhancing natural detail and tone. You can also use Topaz in Photoshop Elements, Lightroom, Aperture, iPhoto, PaintShop Pro, Serif PhotoPlus and Irfanview. Learn more about the Plugins Bundle here, or read below.

Topaz Adjust (new version Adjust 4 just released — read full news on Adjust 4)
Deliver stunning and dynamic images with this uniquely powerful plug-in that features HDR-like abilities and enhances exposure, color and detail.
Topaz InFocus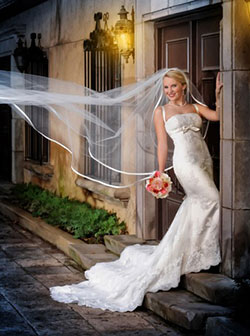 Topaz InFocus uses the latest advancements in image deconvolution technology to restore, refine and sharpen image detail.
Topaz Detail
A three-level detail adjustment plug-in that specializes in micro-contrast enhancements and sharpening with no artifacts.
Topaz ReMask
The fastest and most effective masking and extraction program with one-click mask refining.
Topaz DeNoise
Highest-quality noise reduction plug-in that removes the most noise and color noise while preserving the most image detail.
Topaz Simplify
Provides creative simplification, art effects, and line accentuation for easy one-of-a-kind art.
Topaz Clean
Take control of the detail depth of your images with extensive smoothing, texture control and edge enhancement tools.
Topaz DeJPEG
Drastically improves the quality of web images and other compressed photos. Learn more about the Topaz Photoshop Plugins Bundle. Download a free trial version.

Photoshop Masking Plugin Fluid Mask 3 - Price Drop And Exclusive Instant Discount - Now Only $129

Vertus have released new versions (Mac and PC) of Fluid Mask, v3.2.5. This fixes the issue that 64-bit PC users were having installing Fluid Mask as a plug-in and also includes some bug fixes relating to the licensing aspect of the software, as well as a small tweak to the 'show object edges' tick box (now user defined). This is a free update for exisitng users, who can download the new version. Vertus is also running a promotion with this release. Use coupon code FM3UPDATE at checkout. This gets you a 33% discount. This coupon code is not valid with any other promotional discount and is good until January 15.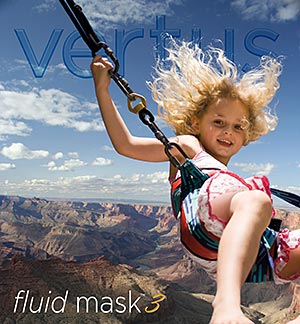 The 4 1/2 out of 5 star review of Fluid Mask 3 at MacWorld begins by saying that this "Photoshop plug-in takes the pain out of extracting backgrounds," and goes on to recommend the latest version, stating that "Fluid Mask 3.0.2 is a very effective tool for separating objects from their backgrounds. It offers a variety of useful features for tackling almost any difficult image, from wispy hair to complex foliage. Online video tutorials and live training sessions help ease the learning curve."

Our friends at Vertus, the makers of Fluid Mask 3 Photoshop Plugin, have set up a special exclusive discount for PhotoshopSupport.com. Buy now for only $129. Just follow this discount link and instantly get $20 off your purchase of Fluid Mask 3.

Fluid Mask 3 is designed for photographers, image editors, graphic designers and all those who take digital image editing seriously. In a streamlined interface and workflow, Fluid Mask 3 instantly shows key edges in the image and provides comprehensive easy to use tools that work with difficult-to-see edges and tricky areas like trees & lattices. Fluid Mask will also preserve all-important edge information for a professional quality cut out. Simply follow this discount link and pay only $129 for Fluid Mask 3.



Site Grinder Web Design Tool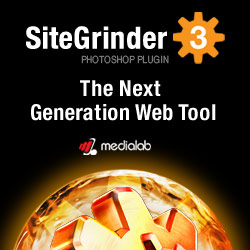 There often seems to be a strict division of labor within the world of web design and development. Creative professionals tend to stick to the Photoshop domain, while those well-versed in scripting are left to the task of implementing their work. Indeed, the two realms are quite different from each other, to which any of us even vaguely familiar with either can easily attest.

Essentially, Photoshop is a no-holds-barred design studio, offering the artist a seemingly endless array of creative options. On the other hand, HTML, CSS, Java and the like follow strict rules of engagement, requiring the developer to take any number of esoteric concerns into consideration in order to ensure that designs are properly displayed on the web.

Turn Photoshop Into A Complete Web Design Tool
SiteGrinder seeks to bridge this gap between design and development. Basically, SiteGrinder turns Photoshop into an easy-to-use and fully functional web design tool. With SiteGrinder, designers will now have the freedom to totally let their creativity loose and then, without skipping a beat, transfer their designs to the web. Bringing esthetic concerns together with more practical considerations, SiteGrinder is an amazingly powerful tool that would make a fantastic addition to any web designer's bag of tricks. Mac OS X and Windows versions of the SiteGrinder unlockable demo are available now via download.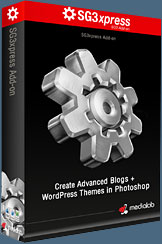 WordPress Photoshop Plug-in Creates Wordpress Blogs & Sites

Designers can now create PSD to WordPress Themes in Photoshop with Media Lab's NEW SG3xpress for Wordpress Photoshop plug-in. In addition, Media Lab has released the SG3xpress Add-on for its SiteGrinder 3 for users who wish to add advanced blog and WordPress Theme-building to the already powerful SiteGrinder 3 website creation software.

If you know Photoshop then you already know enough to start creating WordPress themes and blogs for yourself and your clients. Creating a blog or a WordPress site in Photoshop is easy with SG3xpress. Now you can go directly to WordPress with your design saving even more time and money for yourself and your clients.



Mister Retro Machine Wash Photoshop Plugins 4-CD Bundle

Mister Retro has combined all four Machine Wash Image Filter Volumes I-IV into a single bundle for one low price. Each volume contains 60 Image Filters to texturize, age, and weather layered artwork in Photoshop.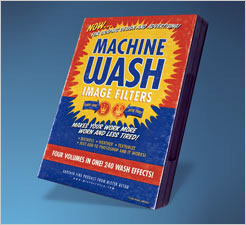 The bundle collection includes all 240 weathering, distress, and tactile effects on four CDs. Here's a link to the Machine Wash 4-CD Bundle, and below you'll find a link to a live online testdrive where you can use a pulldown menu to see how the actual Photoshopplugin filter effects look.

Machine Wash Vol I, II, III, IV Filters
View the Machine Wash Vol I Filters.
View the Machine Wash Vol II Filters.
View the Machine Wash Vol III Filters.
View the Machine Wash Vol IV Filters.

Machine Wash Filters FAQ
What applications can I use these filters in?
These filters have been developed and tested for use with Adobe Photoshop 6.0 to the current CS3 version as well as now supporting Photoshop Elements 1.0 and higher.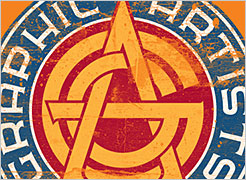 When I apply the filter, is it undoable?
Yes it is! While the wash effect will be applied to your original image, by using the Undo command or the Photoshop History palette, you can undo the wash effect.

How do I get the cool rusted background effect?
Within the plug-in interface, there is a Heavy Cycle option which will create a rust coloration effect underneath the distressed design. You can easily customize the coloration of the rust to your choosing by way of clicking the foreground and background rust colors to pull up a color picker.

Are the filters customizable?
You can use any number of additional built-in Photoshop effects to modify the filters once they're applied, We've created a bonus online forum with sections that teach you how to extend the range of effects these filters can create and modify the look of the wash effects.

Visit the Mister Retro site for more info.



Permanent Press Image Filter - Photoshop Plugin From Mister Retro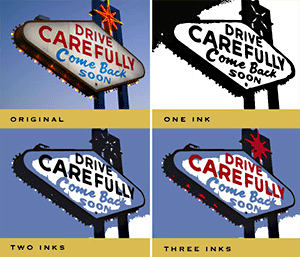 With Permanent Press, a powerful and easy-to-use Photoshop plug-in, you can create professional quality vintage offset printing and ink effects with any design, photograph, type treatment or image.

Realizing that printing technology has left printed work without the texture, soul, or the spirit of vintage printing, Mister Retro created the Permanent Press Photoshop Plugin set.

Take any design, photograph, type treatment, or image and transport them to another time and aesthetic with this powerful and easy-to-use plug-in GUI interface. Read more about this new Photoshop Plugin.



Visit the Photoshop Plug-ins News Page for more in-depth coverage of the latest Photoshop Plugins news. Want some free Photoshop Plugins? See our amazing collection: The Best Free Photoshop Plugins - Free Photoshop Plugin Downloads.



For more news vsit our Plugins News Archives Page...




Introduction to Photoshop Plugins - Plugin Essentials
Harald Heim of the Plugin Site (listed below) has written a great Photoshop plugins introduction here with all you need to know to understand plugins and start using Photoshop plugins right away. He addresses issues such as incompatibilities, explains the differences between free and commercial plugins, and offers advice on installing your plugins, on organizing your plugins on the hard drive, and on accessing and managing your plugins.




The Plugin Site - Plugins Collection
You'll find a vast collection of plugins here.


PhotoFreebies is a collection of free Photoshop plugins for performing useful photo manipulations and effects - including sepia effects, saturation gradients, b/w conversion, color space transformations and many more.


Harry's Filters is a set of over 50 Photoshop-compatible and Adobe Premiere plugins with various effects.




PHOTO CREDIT: Monterey Bay Aquarium & Chicago airport.
© 2003 halfstring - [from iStockPhoto]