Find free brush sets for print on our High Resolution Photoshop Brushes page.


Try before you buy. Download any Adobe product for a free 30 day trial.





Free Holiday Photoshop Brushes

Here's a super long list of free Xmas and Snow and Holiday themed brushes from our favorite Photoshop brush artists, The 3 Brush Divas — Janita, Stephanie and Kirsty, who are not only superbly gifted, but also delightfully generous with their endless free sets. This should keep you busy!



Winter Treat — Snow Flakes Brush Set From Kirsty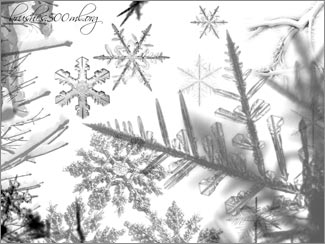 It's that time of year and many of you have been asking for snow and ice brushes. Well we're happy to announce that we have an exclusive Snow & Flakes Brush Set for you to download.

This set was kindly created for us by Kirsty of 500ml Brushes. She's always been one of our favorite brush maestros (you can see a list of her other excellent brushes on our brushes page), and we're thrilled to be able to offer her truly amazing work to you.

The Snow & Flakes Brush Set contains 10 individual brushes and is a real winter wonderland of snowy images, featuring icy trees, perfectly exquisite snow flakes, intricate ice crystals and more. Make sure to review the read-me file that contains certain usage restrictions, and then create your own spectacular wintery marvels to unleash on the world. Thanks Kirsty! Download the Snow Flakes Brush Set (zip/1.3M).



17 Amazing Wintery Holiday Brushes From Janita

Need more snow and winter brushes? How about 17 amazing free brush sets? That should cover all your holiday needs. Thanks Janita! Make sure to visit Janita's site Seishido — and don't forget to join her newsletter!




Download Angel Kisses




Download Angels




Download Blinky Balls




Download Come Together




Download Counting Days




Download Don't Want To Wait




Download Frosty




Download Frozen




Download Let It Snow



Download Merry Xmas




Download Once Again




Download Outside The Window




Download Schneefloeckchen




Download Season Swirls




Download Share The Spirit




Download Star Shine




Download Winter Wishes

See more of Janita's wonderful creations on our Free Photoshop brushes Page.



Free Snow Flakes Photoshop Brushes From Stephanie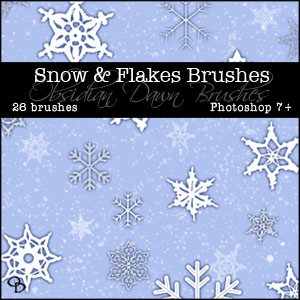 Here's Stephanie with a beautiful free Photoshop brush set, Snow Flakes Brushes:

This set of Photoshop brushes is made up of various snow and snowflakes. This includes various flakes in different shapes, of course, but some of them are patterned, others are vector, some are crocheted, there's some scattered flake shapes, as well as some made to look like real snow that you can add to any scene to make it look like it's snowing!

Download Snow Flakes Brushes.

Hope that everyone enjoys, and Happy Holidays! Keep in mind that I have a few more snowflakes available in my Holidays Brush Set.

Want More Free Photoshop Brushes?
We've collected the most recent of Stephanie's original brushes on a special Obsidian Dawn Photoshop Brushes Page, with big preview images to give you an idea of each set. Also see our Free Photoshop brushes Page for other places to find brushes.



Photoshop CS5 & Photoshop CS5 Extended - New Painting Brushes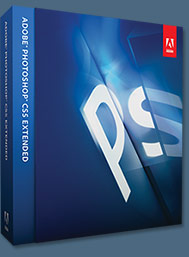 Adobe Photoshop CS5 delivers breakthrough capabilities to help you create images with impact. Refine your images with reengineered photography tools for removing noise, adding grain, and creating high dynamic range (HDR) images. Get precise results when making complex selections. Remove any image element and see the space fill in almost magically. Paint with naturally textured brushstrokes and realistic color blends. Learn more about Photoshop CS5.

Adobe Photoshop CS5 Extended software helps you create the ultimate images for print, the web, and video. Enjoy all the state-of-the-art editing, compositing, and painting capabilities in industry-standard Photoshop CS5, and experience fast performance thanks to cross-platform 64-bit support. Also create 3D extrusions for logos, artwork, and motion graphics; edit 3D objects with advanced tools; and create and enhance motion-based content. Learn more about Photoshop CS5 Extended.

Photoshop CS5 - Extraordinary Painting Effects


With a new Mixer Brush, a Bristle Tips feature, and a new mechanism for blending colors, Photoshop CS5 redefines the way you paint. You can take advantage of more natural and realistic painting effects, making it easy to take your imagery and designs in new artistic directions.

The Mixer Brush lets you define multiple colors on a single tip, and then mix and blend them with the underlying hues on your canvas, achieving creative results that rival traditional painting media. When starting with a photo original, you can use a dry, empty brush to blend the existing colors while at the same time adding a painterly effect to the image.

Mixer Brush settings provide extensive control over the wetness of the canvas colors, the load rate that determines amount of paint loaded on the brush, the mixing rate between brush and canvas colors, and whether the brush is refilled, cleaned, or both after each painting stroke.

In conjunction with these new mixing features, Photoshop CS5 incorporates unprecedented control over stroke characteristics of its painting tools with Bristle Tips. Bristle Qualities define key bristle properties such as shape, length, stiffness, thickness, angle, and spacing, which affect how the color is laid on the image as you paint.

The Bristle Brush Preview feature provides a visual representation of these changes, and you can save your tip configurations for future use, allowing you to build a customized collection of Bristle Tips to experiment with when using Photoshop brush tools. Read about all the new features in Photoshop CS5.

You can upgrade from any Suite to any Suite, as there are no more restrictions. Customers can upgrade to CS5 suites from up to 3 versions back. Customers can even step down; go from Photoshop Extended to Photoshop or from a Master Collection to another Suite. For full upgrade pricing on individual CS5 products visit the Adobe Store. See CS5 pricing in UK currency at the Adobe UK Store. Visit the Adobe Special Offers page to find deals. Save 80% on Adobe Student Editions. Try before you buy — download a free Photoshop CS5 trial.



Free High Res Photoshop Brush Set From Janita - Plus Hi-Res Brush CD "Thinkbrushy Goes Scrapbooking"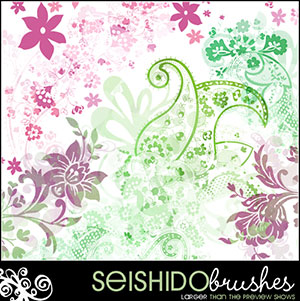 You can purchase some very nice hi-res Photoshop brushes from Janita of seishido fame (find a free free brushset and texture pack below). The CD, called Thinkbrushy Goes Scrapbooking, features high resolution brushes and graphics, including:
10 high resolution brushsets (floral, ornamental and doodle).
3 high resolution artwork brushsets.
8 3600x3600px images with floral patterns and swirly backgrounds.
3 high res sticker graphics which can be used as overlays on graphics.
3 high res word art graphics.
6 frames — all very large high res .png files with transparent backgrounds for scrapbooking artists and photographers.
a cookiecard for 1 month of free membership at seishido, a website that offers downloadable brushes.
a cute seishido badge, and 3 texture patterned badges.
The CD not only features brushes and textures, but also graphics that you can work with. It's a complete set, just like the scrapbook kits you can purchase online, but much more special because scrapbook designers do not usually design brushsets, so their kits usually only feature graphics. The new thinkbrushy CD is a lovely combination of both - graphics and brushsets. Find out more on Janita's site.



To see what kind of work Janita does, you can download a free sample Photoshop brushset, Precious Times (15 brushes), and a free sample texture package, Texture Pack 122. These are not from the CD, but the style is exactly the same.



Download Brushset Precious Times (zip - 255 KB)


Download Texture Pack 122 (zip - 250 KB)

Seishido brushes and textures have been spotlighted by both Advanced Photoshop and Photoshop Creative magazines. Janita's brushes were also included in each magazine's accompanying CDs.

Advanced Photoshop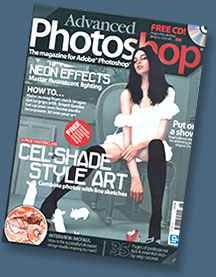 Issue #26 of Advanced Photoshop features some of Seishido's brushsets and textures on a free CD and also includes an article about the site, and tells a little about why and how Janita started to make her own brushes. Each issue is packed full of inspiring interviews and challenging tutorials, tailor-made for the more advanced digital artist, so she was in really good company.
(subscriptions to Advanced Photoshop are available through Amazon.com)

Photoshop Creative
Issue #17 featured a huge amount of Seishido brushes and textures on a free CD. Photoshop Creative features inspirational tutorials covering the whole scope of Photoshop, from creative projects, to practical guides to using tools and techniques. Readers also benefit from a collectable CD-ROM each issue. Another great Photoshop magazine!
(subscriptions to Photoshop Creative are available through Amazon.com)

For more free Photoshop brushes from Janita, see our Photoshop Brushes Page.



Special Offer - Fluid Mask - Photoshop Masking Plugin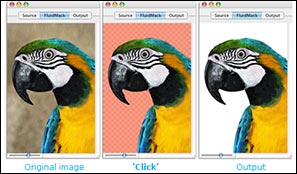 Fluid Mask is based on breakthrough segmentation technology inspired by the way the eye, optic nerve and brain perform visual processing. When an image is loaded, Fluid Mask's segmentation engine analyses the distribution of colors, finding the natural groups within the image. Together with information calculated about edges, gradients and textures, a model is constructed which divides the images into objects.

Vertus Software is offering Fluid Mask at the special 'friends and partner' discounted rate. This is an exclusive offer to visitors of PhotoshopSupport.com. To qualify, visit the Fluid Mask Discount Price page. Find out more about Fluid Mask on our special Fluid Mask Page.



SiteGrinder Photoshop Plugin - Create Websites Instantly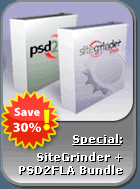 There often seems to be a strict division of labor within the world of web design and development. Creative professionals tend to stick to the Photoshop domain, while those well-versed in scripting are left to the task of implementing their work. Indeed, the two realms are quite different from each other, to which any of us even vaguely familiar with either can easily attest.

Essentially, Photoshop is a no-holds-barred design studio, offering the artist a seemingly endless array of creative options. On the other hand, HTML, CSS, Java and the like follow strict rules of engagement, requiring the developer to take any number of esoteric concerns into consideration in order to ensure that designs are properly displayed on the web.

Turn Photoshop Into A Complete Web Design Tool
SiteGrinder seeks to bridge this gap between design and development. Basically, this program turns Photoshop into an easy-to-use and fully functional web design tool. With SiteGrinder, designers will now have the freedom to totally let their creativity loose and then, without skipping a beat, transfer their designs to the web. Bringing esthetic concerns together with more practical considerations, this program is an amazingly powerful tool that would make a fantastic addition to any web designer's bag of tricks.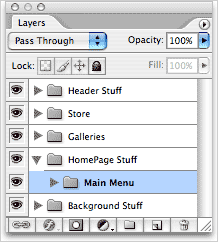 Generate Your Web Pages Directly From Photoshop
By generating web pages directly from Photoshop, you'll be able to spend much more time on the creative end of the spectrum, since you'll know right off the bat how well particular designs will translate to the web. No more going back to the Photoshop drawing board after getting a phone call from your development team, telling you that what you had envisioned doesn't have a chance of being displayed on the web. You can immediately visually and interactively test your designs, which permits you to then make changes to either esthetics or functions while it's still relatively early on in the design process.

Pricing and Availability
Mac OS X and Windows versions of the SiteGrinder unlockable demo are available now via download. SiteGrinder can be ordered from Media Lab's online store.



Exclusive 20% Discount On Select Total Training Products & Bundles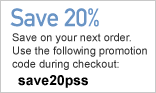 To redeem our exclusive discount coupon, use promotion code save20pss in your shopping cart. You could save hundreds of dollars. Use this special link to see the full offer.

Total Training for Adobe Photoshop
Learn Adobe Photoshop with 21 hours of interactive Adobe Photoshop tutorials. This is training for real-world situations and includes additional tips and techniques used by the pros.

View Sample Photoshop, Dreamweaver and Flash Pro Video Tutorials


Free Adobe Photoshop CS3 video tutorials


Free Adobe Photoshop CS2 video tutorials


Free Adobe Dreamweaver video tutorials


Free Adobe Flash Pro video tutorials



PHOTO CREDIT: Monarch butterfly stops by the office. © 2007 Jennifer Apple